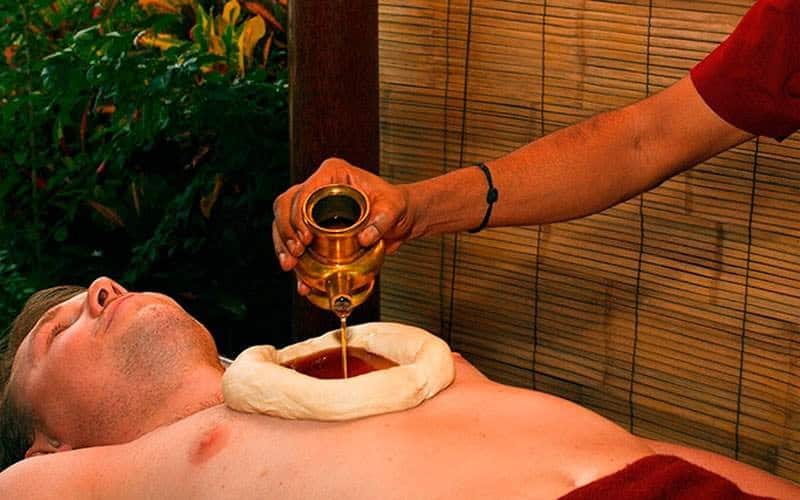 MUPPRA Kerala Ayurveda is an authentic ayurvedic Treatment centre and upholds the traditional methods of treating various diseases. Our panel of certified doctors is extensively trained in diagnosing and treating the disease based on the individual prakruti analysis, medical history, signs & symptoms.
After a thorough consultation, they plan the treatments with panchakarma treatments, internal medications, diet plan and advice on life style modifications as per the individual needs.
 Kerala Ayurveda has maximum happy customers since 1997 in Pune, who got good results with our time tested treatments and they believe in us.
"Basti" or medicated enema is also a unique part of Ayurvedic treatment for stroke. Both the "Niruh" and "Anuvaasan" types of enemas are used in an alternating fashion.
Medicated nasal drops are used to stimulate and bring about early recovery of the special sense organs. This therapy is known as "Nasya".Sthulpachan and sukshmpachan it is done by two way-
1)Shaman :- Oral Ayurvedic medicine according to prakruti (Body Structure) and symptoms of patient.
2)Shodhan :- Panchakarm
our Specialized Treatments
Infertility
Our array of treatment services includes, Pre Mature Ejaculation, Male and Female infertility, loss of erection etc.
Obesity
Referred to as 'Medoroga' or 'Sthaulya Roga' in Ayurveda, obesity is treated by eliminating aggravating foods from the diet. Herb cleansing processes are used to clean the medovahi channels.
Allergies
Ayurvedic treatments focus on eliminating the imbalanced dosha (toxins) and restoring digestion using the herbal medications.
Paralysis
It is believed that this treatment helps to reverse the pathology in stroke, by normalizing the "Prana Vayu".
Spondylitis
Ayurveda can treat spondylitis in safe and simpler way. Severe and chronic cases of Spondylitis require Panchakarma treatments.
Jaundice
Ayurveda largely makes use of strong natural herbal remedies to treat jaundice effectively. Moreover, Ayurveda also helps in dealing with the various symptoms of jaundice.
Hepatitis
Muppra Kerala Ayurvedic offers the best ayurvedic treatments for hepatitis B and C. Our approach restricts the infection from spreading and also prevents further damage to the liver.
Psoriasis
Muppra Kerala Ayurvedic Treatment Center provides the best treatment for psoriasis. We provide herbal treatment for psoriasis.
Depression
Ayurveda is an excellent medium to combat depression as it has proven to be a reliable channel to deal with it since several centuries. The treatments available at Muppra Kerala Ayurvedic will ensure that depression is suppressed with herbal and natural treatment methods.
Piles
Ayurvedic treatment for Piles at Muppra Kerala Ayurveda is non-surgical and highly effective for both bleedings as well as non-bleeding piles.
Diabetes
Panchakarma procedures like Abhyanga, Swedana, Mashapinda Sweda, Shirodhara, Shirobasthi, Kayaseka are proved to be beneficial.
Headache
Headaches can be painful, have a negative effect on day-to-day life, and take a toll on individuals. Ayurvedic treatments have gained popularity over thousands of years to deal with headaches.
Urinary disorders
Muppra Kerala Ayurvedic has a range of Ayurvedic treatments for urinary disorders including, kidney stone, urinary tract infection, prostate disorders, and urinary incontinence.
Sexual debility
Ayurveda is one of the most ancient and powerful treatments used to deal with sexual problems for several years. The treatments have helped humans treat sexual disorders for thousands of years.
Asthma
Muppra Kerala Ayurvedic provides the best and the most effective herbal remedies for asthma and other conditions related to the same.
Sinusitis
In Ayurveda, certain Ayurvedic herbs are used to dissolve and eradicate aggravated body energies. In addition, nasal therapies and the Panchakarma treatment at Muppra Kerala Ayurveda is very effective to combat the sinusitis issue.
High cholesterol
The ayurvedic treatments adopted at Kerala Ayurvedic to treat high cholesterol problems remove the harmful toxins from the body.
Arthritis
Our treatment is specially formulated to provide long lasting relief in all types of arthiritis and inflammatory conditions of joints.
Thyroid disorders
Studies have revealed that Ayurveda can significantly help dealing with thyroid diseases effectively by utilizing herbal medicines and various home remedies.
Skin diseases
The natural and the herbal remedies to treat skin diseases at Kerala Ayurvedic are highly effective and cost-effective. We offer some of the best treatments to deal with skin diseases.
Eczema
Muppra Kerala Ayurvedic Treatment Center provides the best treatment for eczema. We provide herbal treatment especially for baby eczema.
Anxiety
We ensure that the anxiety levels of all our customers are significantly reduced with our effective ayurvedic treatments that seek to eliminate 'Vata Dosha'.
Acidity
Ayurvedic treatments are one of the most natural and effective methods to deal with acid reflux. Kerala Ayurvedic offers natural and herbal ayurvedic treatments to deal with acidity problems.
Hypertension
Stressful lifestyle often leads to high blood pressure and hypertension. However, we at Kerala Ayurvedic, offer diverse natural treatments to combat hypertension and offer relief from the same.
Migraine
The treatment proceeds systematically in gradual and effective way to tackle the frequency of headaches, severity of pain.
Pimples & Hair loss
Muppra Kerala Ayurvedic is the answer to all your pimple and hair loss problems. The natural and herbal treatments at Kerala Ayurvedic effectively flush out the toxins and the causes ofhair loss and pimples.
Viman Nagar Branch
Address: Row house No: 7, Clower Arch Housing Society , Opp. Nataraj Bhel, Behind Khalsa Sweet Home, Near Datt Mandir Chowk, Viman Nagar Pune-14
Email: contact@muppra.com
Phone: 9404292255, 7276522255